Featured Article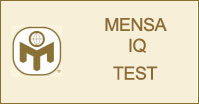 How to Prepare for Mensa IQ Test?
Getting a Mensa membership is considered prestigious as only the top 2% of the test takers are granted the membership.
Find out how you can get in.
Brain Teaser of the Day
Fill in the blanks in the following sentence with an anagram:
Almost a _________ started between two brothers to decide who will use their father's _________.